CA Technologies' highly successful mobility initiatives are linked with SAP finds Fiori mobile applications at their very core. Next up: The popular SAP Mobile Platform that includes push notification for true mobility.
In the early months of last year, CA Technologies, the software makers, had implemented three different SAP Fiori mobile applications in a short period of two months, thereby delivering enhanced SAP mobility options for the very first time. Within a span of a year, SAP had followed it up with five other out-of-the-box Fiori applications. In the current scenario, it is considering an entry into the second major phase. In other words, SAP is now ready to use the SAP Mobile Platform for developing or upgrading its apps.
This initiative was detailed by the company's IT director, Rich Lazzara, at the Sapphire Now conference 2015 at Orlando, Fla, wherein the presentations were conducted as a joint initiative of ASUG, its North American user group ,and SAP.
According to Lazzara, CA Technologies (which was formerly known as Computer Associates International), is based in New York and is a $5 billion worth "big SAP shop" that runs Supplier Relationship Management (SRM) and ECC 6 ERP. Lazzara is responsible for the vendor management, procurement, and supply chain systems for the company. Along with being CA's mobility champion, he was also involved with leading the integration of invoicing and procurement software from SAP.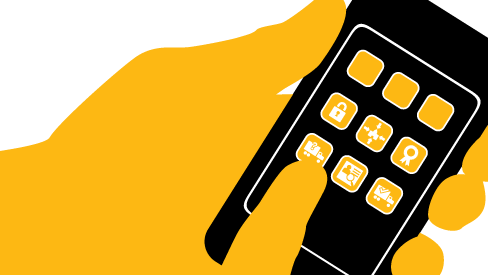 The first target of SAP's mobility platform was the SRM shopping cart. Earlier, there was no effective way for CA's 13,000 employees to attain access to the commonly used applications related to tablets and smart phones. Lazzara said, "For anybody to be able to do any of the transactions that they would need in SAP, they have to be tethered to the system and use a desktop or laptop computer to access the virtual private network (VPN)."
The closest that CA could reach to giving its employees the freedom from the complicated back end was with regards to offline email approval. He said, "You can respond, and it sends the disposition of what you want for the shopping cart."
The shopping cart approval serves as a good fit for SAP mobility. As per Lazzara, the approvers were usually in the form of senior managers and influencers who travelled the most. She said, "If you have a shopping cart that needs to be approved -- usually the higher the dollar value -- when it finally gets to the point where somebody has to approve it, you need the least amount of information," he continued, "The problem is that you don't know when the approval's coming." He also said, "When the approval comes, especially if it's a big-dollar item, it's probably going to be at some inopportune time -- when somebody's traveling or at an airport and can't easily fire up their laptop and VPN."
Lazzara opined, "With release of the first two Fiori apps -- shopping cart tracking and approval --people were now able to go and do this task, which was normally drudgery, and do it simply." But then, people have loved all that was on offer. " He added, "I had people come to me and say, 'I would rather approve a shopping cart on my phone than [in] SRM."
Enjoying the Advantages of SAP Mobility
This mobility push was initiated two years ago, at the "innovation day" held by SAP at CA for explaining various SAP mobility options, which included Fiori, which was in the form of the then-new standards of design , and integrated various tools and apps for bringing about improvements in user experiences.
At this time, Lazzara had put together a business case that emphasized the need to bridge the gap between all that employees were capable of doing with their own devices and how they were equipped to interact with ERP (Enterprise Resource Planning). "I marketed Fiori just as mobility even though its responsive layout is the same whether you're on a desktop, tablet or phone," he mentioned, "Since I was the mobility champion, I wanted to push it as mobile initially."
The approval had arrived at the fag end of the year 2013 for "modest funds" that were available for spending for Fiori licenses and the required NetWeaver gateway. As per Lazzara, " It wasn't free at the time. Now it's free."
Lazzara also invited over 40 senior managers and influencers to take part in the January 2014 pilot phase by using a relatively "high-touch model" that included service desk support, welcome letters with instructions, and twice-a-week conference calls. The users were also asked to see a URL on their personal devices, open the same and create relevant shortcuts.
He had been careful in setting expectations, informing participants that may be difficult for things to go as planned in the first phase itself. He advised," if you have an issue, tell the team, and we'll do something about it. If you love it, tell everybody." As expected, by the end of February, the first of the three apps saw the light of the day. There were hundreds of users who were integrated in many rollouts across 2014, so, as of now; over 2,000 employees are using eight apps. Along with using shopping-cart apps, they are also handling timesheet approval, timesheets, leave requests/approvals, as well as purchase order tracking/approval.
Essential SAP Support
Lazzara has confirmed that the success of this project was uncertain without gaining adequate support from the customer-support groups located at SAP, particularly the Technology Rapid Innovation Group (RIG).
He said, as far as internal affairs were concerned, the project demanded not only a project manager but also an experienced "techno-functional expert, someone who was a developer who became a business analyst, which was a good role. If I didn't have that role, I would probably need one of each." Additionally, there was an urgent requirement for a professionally trained person who could handle the complexities of SAP configuration. There also existed an urgent need for infrastructure people who knew the basics of middleware, administrative and development tools; along with a SAP business analyst. After having the correct recruitments in place, CA's security department got involved along with those concerned with quality assurance testing.
According to Lazzara, this development work was not as difficult as it seemed at the very onset. He said, "Basically, they had to apply some notes on the back-end systems -- ECC and SRM -- do a little bit of configuration, and use the apps right out of the box," he said. In continuation, he added that minimal training was imparted, sometimes in part as ample information was available on portals, including the popular SAP Community Network.
One important lesson learned in the process was the significance of performance testing. Lazzara said, "Since Fiori is really just exposing your back-end systems, the speed at which you can access any of those functions is only as good as your existing, on-premises access." For instance, the shopping cart apps access SRM via the modules connected with SAP Human Capital Management (HCM). "In the HCM space, that transaction was always slow," he added, "There was some database tweaking and things that needed to be done."
The areas linked with SAP security needed more attention. Lazzara said, "VPN doesn't equal mobile". For gaining true SAP mobility, CA had set up a reverse proxy system for bringing users into the periphery of an internal portal and performing the authentication via Lightweight Directory Access Protocol . He mentioned, "We get the token and we pass [it] to the gateway server," which automatically signs users in and brings them to the Fiori launch pad."
Getting Mobility Online
According to Lazzara, the very first apps that were handed over were full-blown mobile applications. They were in effect "mobile device-friendly Web apps that were not wrapped. They're not native, "he said. "They're still, they offer significant value and are easy to deploy. "If you do the communication right [by] getting the URL to your users with the right level of instructions, you can pretty quickly make it look and act like it's a wrapped app or a native app," he continued.
For the development of applications that leverage total advantage of mobile devices, it is essential for CA to deploy the effective SAP Mobile Platform (SMP), which according to Lazzara sits in front of the back-end systems, from where it serves data in the Open Data Protocol (OData) format. This format is easily consumed by just about any app that's compatible with HTML5. He also wants to integrate "badges" and push notifications that remind users to respond.
Lazzara said, "I've got a roadmap that brings us to 16 Fiori apps out of the box by the end of the summer." He also revealed that three applications were being upgraded with the help of the SAP Web integrated development environment (IDE). "Instead of using [open source] Eclipse, it's WYSIWYG [what you see is what you get], drag and drop, and comes with templates for the Fiori apps," Lazzara said. Now, work is underway for the extension of two innovative Fiori apps that support "shop on behalf" and completed shopping cart features.
The existing phase is taking place on two tracks that are running in a parallel way. Lazzara said, "We're trying to come up with the standards and guidelines for how we should do mobile development overall". Here in, it was essential to note that a proof-of-concept project related to an in-house SMP app helped get a peep into CA's monthly commission statements- it had over 5,000 quota-carrying employees that had already tasted success.
CA has used SMP for exposing the commission data, which typically resides within an Oracle related database as OData. They then employed SAP Web IDE for building the application with assistance from Technology RIG. He said, "We did that basically in about two months' time."
Now, he is integrating a different proof of concept for building a business case for SMP; this he is doing by showing the ways in which it will avoid app chaos and help enforce standards. He said, "There's robust monitoring within SMP. So when you use an app that was built with SMP, you have to register it, which is cool because then you're able to see how many people have what devices and what apps." For instance, CA could use this feature for pushing notifications related to operating system upgrades.
Here, another strong selling point is Fiori's multiplatform support. Lazzara said, "When people say they like doing these transactions on their mobile device and they wish they could do it that simply on their desktop or laptop, the answer is, they can." He also mentioned that even though CA has done the initial proof of implementing SAP on-premises, in case it manages to move ahead with its production version, the new software would run with the help of HANA Cloud Platform Mobile Services.
Yet another desirable SMP feature is the online capability that allows employees to execute transactions even in the event of sporadic connections. Lazzara said, "Offline gets complex. It's not a sort of magical thing that you turn on and it takes care of the synchronization and everything. You've got to build all of those rules." He further added that it is important to decide upon which user "wins", especially in the situation when both are striving to bring alterations to the data, at the same time
All in all, the advice given by Lazzara was simple, he said, "I always say: Fiori, it's free. Do it now. The SMP thing is worth looking into for the next level, for sure."