SAP solution has a number of extensions that enable a company and its management to make positive changes that would propel them towards success. Two such extensions are SAP Organizational Visualization by Nakisa and SAP Talent Visualization by Nakisa, better known as SOVN and STVN respectively. These provide a set of talent planning tools, along with smart visualization techniques to allow different organizations to assess talent and visualize/ update their talent management data. This SAP ERP (Enterprise Resource Planning) sub module complements the existing talent management functionality in SAP.
It enhances visual experiences for managers who deal with talent related tasks and information, such as key positions, competencies etc.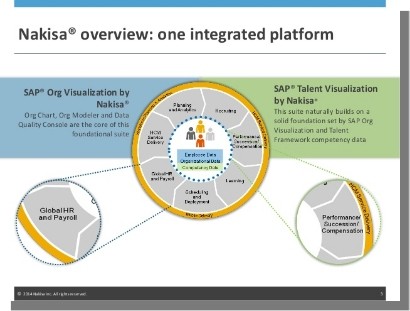 What Can be Done with these Extensions
These extensions have been gathering attention due to their result-oriented approach and smartly aligned solutions; numerous tasks can be achieved through them. Take a look at the advantages offered by these extensions:
Through SOVN, it is possible to:
Design and prepare talent management backed by accurate information. Their greater accuracy levels and reliable data facilitate better bottom line figures and higher productivity levels.
Build models and evaluate changes that occur in an efficient manner, so that the transformations that take place as a result of changes are smooth and successful.
Innovation can be successfully promoted by enabling an enterprise-wide collaboration and its importance cannot be underestimated at any cost.
Decisions can be improved and corresponding action can be taken to optimize the integrity of HCM ( Human Capital Management ) data.
On the other hand, through STVN it is possible to:
Engage employees and empower them do better professionally; it provides them with more lucrative career planning methods. This, in turn, helps a company maintain high retention rates and provides more promising opportunities for existing and potential employees.
Alleviate the risks that come with pending resignations and departures by helping them plan for the next steps. This advanced planning helps a company and its management align their tasks properly and ensures smoother transition for new and departing employees.
Visualize and monitor talent on a global scale. The STVN extension helps the talent management department keep a track of the KPIs that are required for their company and use accurate information to match the demand and supply of talent.
Increase operational productivity by aligning talent with competency needs, as defined by the company. Having an efficient, talented and smart pool of employees is not the only criterion. Using the same efficiently makes all the difference. When they are a part of the department that utilizes their skill set to the maximum, instead of allowing an underwhelming use of their talent, the company is effectively guided onto the path of success.
What's More in Store
SOVN and STVN extensions do much more than just visualizing and managing talent efficiently. They provide an easy interface for users, and help them in monitoring and managing various tasks. These sap sub-modules help in creating a better working environment which results in higher employee retention. STVN improves a Company's ROI in SAP and provides comprehensive solutions that are easy to deploy.
Adopt Two Such Extensions Organizational and Talent (SOVN, STVN) Visualization by Nakisa in your organization and say "hello" to higher levels of success - today.